Explorations: my author blog
Patricia Dunn, author of "Rebels by Accident", came to our creative writing class last spring and did some really neat writing prompts. This autumn, I tried her method again. One of the prompts was "hunger is a mountain". This is what I came up with.
Hunger is a Mountain
(A Writing Prompt)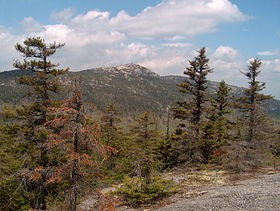 (This is Blueberry Mountain, or Mount Cardigan) 
What does this mean? How can a mountain be hungry? It grows and dies so very slowly, and when does it ever eat? What feeds it?
 I can't imagine being in a mountain's skin. One of the old, metamorphic mountains of New England. Every summer, hordes of tourists and locals climb through its green, damp woods and cross its streams. They are hungry, as the wild creatures are hungry, for the little dark berries that grow on the bushes ringing the mountain's bald crown. They call it Blueberry Mountain.
 The mountain is generous. It feeds the foxes, the chipmunks, the squirrels, the porcupines and birds and deer and people.  The people climb up hopefully and walk down again carrying buckets full of blueberries. Then they eat. They eat blueberry muffins, blueberry dumplings, blueberry turnovers, blueberry pies, blueberries with cream and ice cream. They eat blueberries fresh and frozen and canned. And every time they eat, they think of the mountain and how they'll go back the next summer and pick blueberries again.